Supporting the Health of Our Community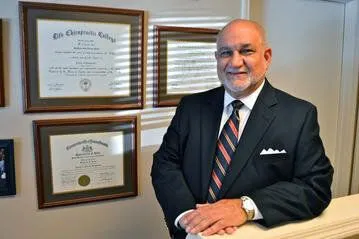 Dr. Bradford Pizza founded Pizza Clinic of Chiropractic after his 1983 graduation from Life Chiropractic College in Marietta, Georgia. It was due to a chance detour that he found our location — on his way to look at a practice for sale that was south of the airport, he got lost and wound up in our city.
It was during the springtime, and the dogwoods were blooming. Dr. Pizza immediately loved our vibrant, beautiful city, and found a building for sale that was perfect.
He opened the doors to Pizza Clinic of Chiropractic in 1984.

Serving Our Patient's Needs
For more than 36 years, we have been serving a diverse range of people. Workers from Delta Airlines, employees at the main branch of the Atlanta post office that is located nearby, manual laborers, teachers, police officers, firefighters, senators, and those with personal and work-related injuries are among the many cases we have helped.
Everyone is welcome at Pizza Clinic of Chiropractic; nobody is turned away at our chiropractic office, and each person gets the same excellent treatment.
Sharing a Passion for Wellness
Dr. Pizza's passion for chiropractic has only grown over time after leaving the teaching profession to enter the natural health field. He believes that everyone should be under chiropractic care.
Our warm, caring and compassionate team assists all ages in reaching greater levels of health, including multiple generations of families — seeing great-grandparents, grandparents, mom, children and babies.
Contact us today
to discuss what we can do for you! We accept insurance and have on-site X-ray facilities to take a comprehensive look at your health.
---
About Pizza Clinic of Chiropractic | (404) 761-6200