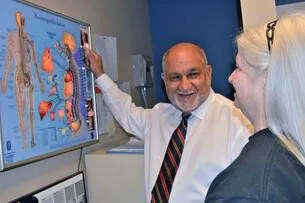 Pizza Clinic of Chiropractic is a warm and welcoming place where there's no cold or clinical atmosphere – you won't see any white coats or stethoscopes at our practice. We want you to know that you will be treated immediately on your first visit. If we were in pain and needed help, we would want to get it right away without waiting, so you will not face any waiting, either.
Getting Started
Pre-exam. The doctor will get a patient history from you and ask questions to learn about past injuries and illness, as well as your present physical condition. This information will help the doctor determine whether you are a chiropractic patient.
Exam. Your current physical condition is investigated during your initial examination. A series of X-rays may be taken to determine the "big picture" of spinal alignment and nerve condition. Additional testing of reflexes, grip strength and the external appearance of the spine will all help to determine where your particular problem may lie.
Post-exam. After your exam, the doctor will inform you of his findings. He will show you any spinal subluxations on the X-rays and tell you how he plans to correct them. At this time, he will outline a treatment program for you.
Treatment. Through the use of the chiropractic adjustment, the chiropractor will gently realign your vertebrae to their normal positions, allowing the pinched nerves to heal. Symptoms may be alleviated and your body's normal function restored.

How Many Visits Will I Need?
It's a common myth that if you begin chiropractic care, you will have to continue forever. We tell our patients that you can see us as often as you like. You will receive Dr. Pizza's best recommendations, and it is your choice how many visits you'd like to have.
You can think of chiropractic like going to the dentist — even after you get a cavity filled, you want to continue preventative visits to make sure you do not encounter more serious problems with your teeth. We work in the same way, helping you maintain your health with regular visits. The decision is always up to you.
Insurance Information
Pizza Clinic of Chiropractic accepts most major insurances, as well as many HMOs, PPOs and POSs. Listed below are many of the insurance plans accepted at our office. If your plan or company is not listed, please feel free to call our office and check with our billing staff.
AARP®
Aetna®
Allwell - Medicare Advantage Plan
Ambetter®
Anthem® Blue Cross Blue Shield
ASHN
Blue Cross Blue Shield – Federal
Blue Cross Blue Shield
Cigna®
Care Source
First Health® Network
GEHA
Great-West® Healthcare
Humana
TriWest Health Care Alliance (Federal Services – VA Patient-Centered Community Care and Veterans Choice Program)
Medicare (state)
PHCS
QuikTrip
Railroad Medicare
United Healthcare®
WellCare - Medicare Advantage Plan
Department of Veterans Affairs – Veterans Choice Program (VCP)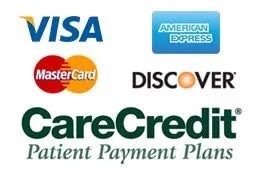 Dr. Bradford Pizza, has been chosen as an approved provider for the "U.S. Department of Veterans Affairs – VETERANS CHOICE PROGRAM (VCP)". Veterans must have a referral to "Pizza Clinic of Chiropractic" prior to treatment. Please ask your primary care physician at the VA for a referral. Veterans benefits are available.
Payment Options
We offer flexible payment plans. We accept Visa, MasterCard, Discover, American Express. Care Credit financing is also available.
---